TILL DATE MANY OF YOU OUT THERE MUST HAVE WONDERED POMELO – WHAT IS IT AND HOW CAN IT BE EATEN?
Pomelo falls into the category of citrus fruits like orange, lime, grapefruit, etc. but its taste doesn't taste like them. It's only better with a less sour portion in it. It's unique in its own kind.
Pomelo is a native fruit of south and southeast  Asia and can be found easily during early spring. The appearance of it differs from semi-transparent to yellow, peach, and pink. In size, it is the biggest of all citrus fruits but is less juicy than them.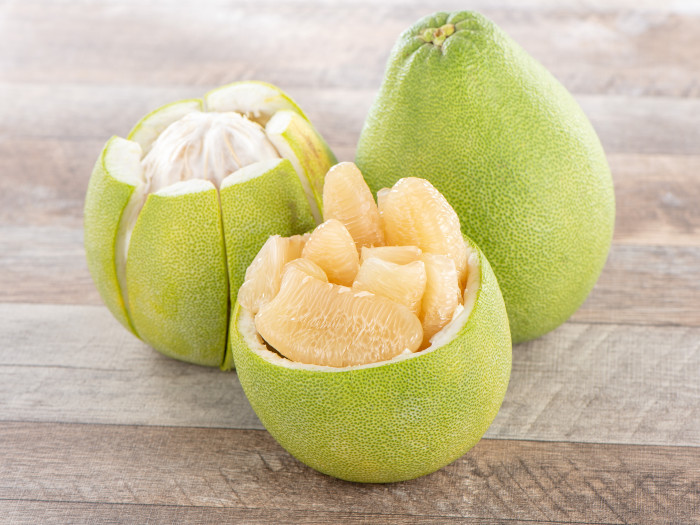 Like all other citrus fruits, it is rich in vitamin C. along with vitamin c it has vitamin B, it has beta-carotene, folic acid, potassium, protein,  fiber, anti-oxidants, bioflavonoid, vitamin A, vitamin B1, B2, and C  also. This helps in digestion, weight-loss, aging, muscle cramping, prevents cancer, anemia, cold & flu. Its uses are countless.
The top layer or peel of a Pomelo is thick but soft at the same time. The peeling off a Pomelo is a big task. But, can be done easily following these steps:-
Slice off the peel from the top and bottom of the Pomelo where it meets its pith.
Cut the peel diagonally into four equal halves with the help of a sharp knife without running your knife into the flesh.
Peel the skin off.
Cut down Pomelo into four equal halves following its natural segment.
Now, remove the thin wall membrane from all the four segments carefully, trying to keep them whole.
Remove the pith's hard part using a paring knife.
Now enjoy eating your Pomelo.
EAT IT AS YOU LIKE IT. YOU CAN HAVE IT RAW OR REPLACE GRAPEFRUIT/LIME/ORANGE WITH POMELO IN SALAD  OR TRY OUT IT AS AN DESSERT COMPLIMENTING BROWNIES.
Read more