Pétillant Naturel, or Pét-Nat as it is more often known (particularly outside of France), is a natural sparkling wine described by the French as being made by very traditional winemaking techniques, or 'méthode ancestrale' as it is referred to in France. With the demand for natural wines rising around the world, Pét-Nat is very much a style that is turning heads, but it's also a style that many outsides of the winemaking (and drinking) community don't know much about. In this article, we take a look at Pét-Nat wines and see what all the fuss is about.
What is Pét-Nat exactly?
Pét-Nat wine is a type of sparkling wine that harkens back to a more traditional age in winemaking. It can be made from red and white grapes and requires no additional ingredients or special machinery.
As it's French-sounding name would suggest, Pét-Nat originated hundreds of years ago in France-specifically, the Loire Valley, where it may have actually first occurred as an accident. Although intermittently manufactured since then, the style began to grow in popularity again once more during the 1990s alongside a global interest in more natural wine styles. In making Pét-Nat wine, the natural process means that manufacture is far from complicated – after the grapes are crushed, the wine undergoes a single fermentation and is bottled. The early bottling then creates carbonation by the continued fermentation of natural sugars in the wine, a process that slowly occurs over several months until the wine is ready to be consumed. The natural style of the wine usually results in a very cloudy appearance, unlike standard wines.
The Pét-Nat Flavour Profile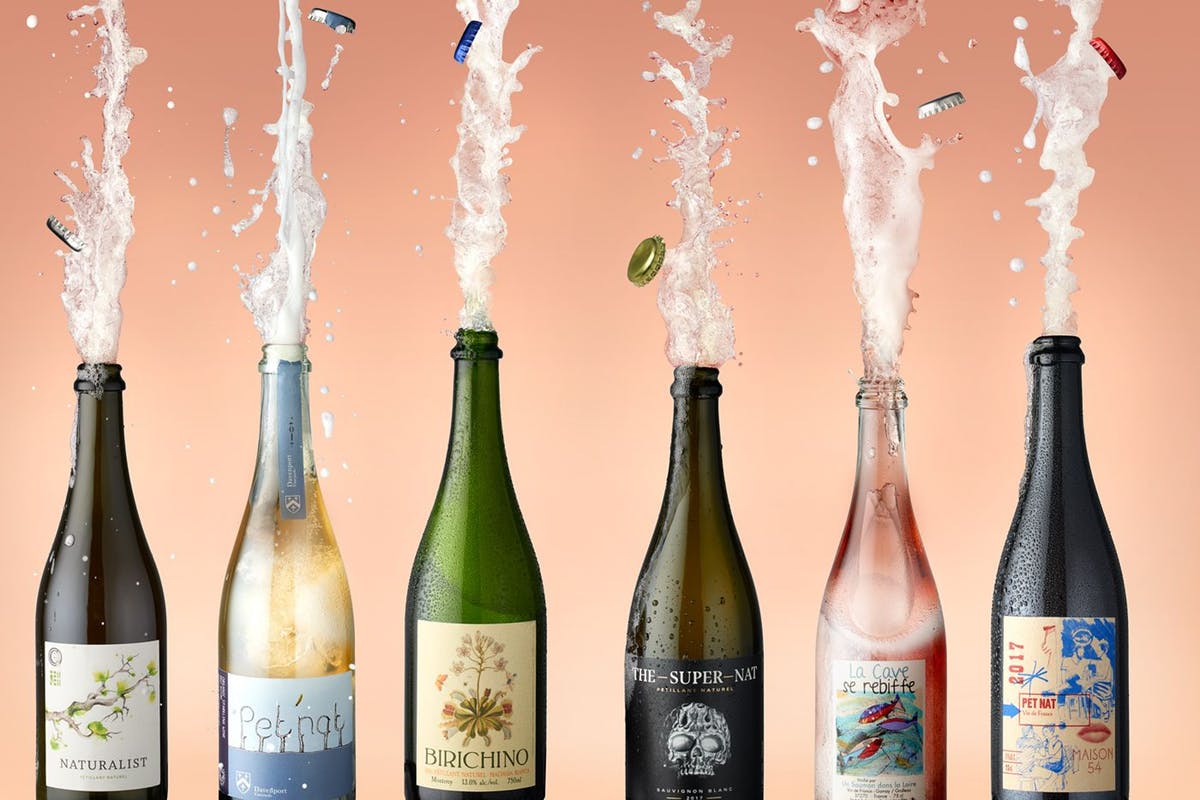 As Pét-Nat refers more to a natural winemaking style, the flavor profile isn't something that easy to pin down. The natural fermentation process often results in some rather unusual flavors and acidity levels, so Pét-Nats should not be treated as being similar to other sparkling wines. With that being said, the style usually creates wines that are very easy to drink, with the lower alcohol content making them great for summery sessions. The natural carbonation creates a light and fizzy mouthfeel making it quite an approachable and refreshing style for those looking for fun rather than complexity in their wine. Otherwise, the flavor of the wine itself will depend greatly on the
winemaker, the grape, and the amount of time the wine has spent in the bottle. You might get sweet, juicy, creamy, rich, tangy, floral, raw, tart, savory, spicy or earthy tones, so it's often worth doing your homework to find a specific wine that complements your typical drinking preferences. Because of this, food pairings are also extremely diverse, and there's undoubtedly a Pét-Nat for every dish out there.
Finding Pét-Nat near you
With so much variability, shopping around for Pét-Nats can be great fun, but it's important to keep in mind that these wines aren't made for cellaring – they're actually quite prone to spoilage due to the natural processes, so should be handled and stored thoughtfully. This shouldn't be a problem for most, though – with Australia's excellent wine-growing climate Pét-Nats are readily available all over the country in a wide range of wine styles, with most of the domestic wines coming from the Adelaide Hills region. If there's one thing you need to ensure with Pét-Nats, it's to keep trying until you find one that suits your taste!