Almonds have originated in the Middle East, and now they are being cultivated worldwide. almond oil for hair has many nutritive qualities because of its content like vitamins A, E, D, B1, B2, B6 and Benefits of Almond Oil for Hair used monounsaturated fatty acid and polyunsaturated fatty acid.
This oil is used in many hair care products for its nourishing value and is also used in aromatherapy because of its sweet fragrance. Almond oil has many benefits; it aids to protect hair from environmental damage, it moisturizes hair. It can be used to style the hair too.
Herein are 10 benefits of Almond Oil for Hair:
1. Almond oil for Shiny and Long hair:
Almond oil for hair is used for scalp and hair. Naturally, the gland on scalp manufactures the oil which gives protection to each hair strand. However due to our frequent use of commercial shampoos and styling products, we lose the natural oil, and our hair becomes rough and brittle. The good news is that we can restore the oil by applying almond oil to our hair and by using it regularly our hair will grow shiny and long.
2. Almond oil to Repair Split Ends:
Almond oil consists of vitamins and omega 3, 6, and 9 that are used to strengthen the hair. And their sealant compounds nourish hair and deep moisturize hair shaft and repair split ends.
3. Almond Oil to Prevent Hair Loss:
Hair loss can be due to various reasons like nutritional deficiency, pollution, stress, hormonal imbalance, particularly lack of calcium and magnesium leads to hair loss and thinning of hair. Almond oil for hair is packed with all the nutrients which promote hair growth. You may also use Coconut oil for hair loss.
Method to use almond oil for hair loss:
Warm almond oil and apply on scalp and massage for 5 minutes at night
Wash off your hair at morning
Do it regularly for better results
You can also incorporate almond oil in your diet for better results
Check this video to know the benefits of Almond oil for hairs:
4. Almond oil for hair to Treat Dandruff: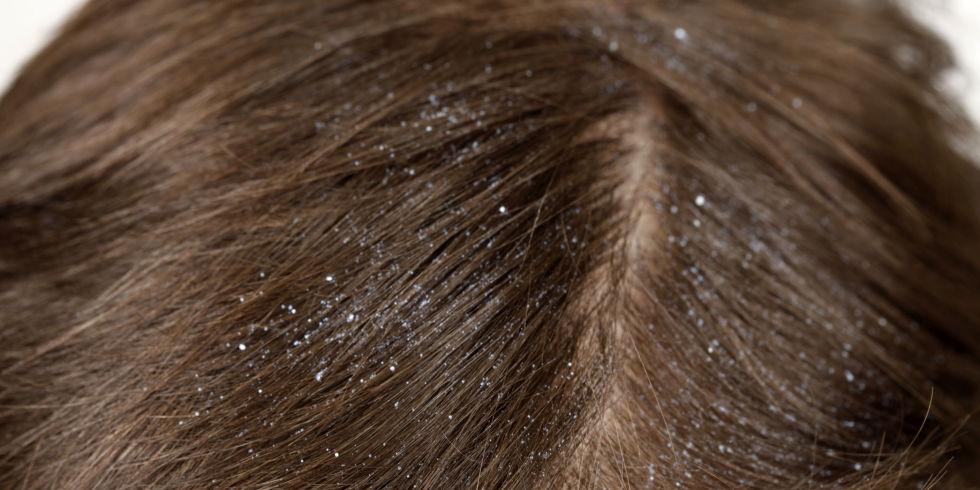 Almond oil for hair acts as a sealant which moisturizes the scalp, and that is dry and flaky and full of dandruff.
Method to use almond oil to treat dandruff:
Mix three tablespoon almond oil, three tablespoon castor oil, and one torn hibiscus flower
Warm this combination and apply path by path on scalp and massage for 10 minutes
Wash off your hair after an hour with shampoo
5. Almond oil for Hair Growth: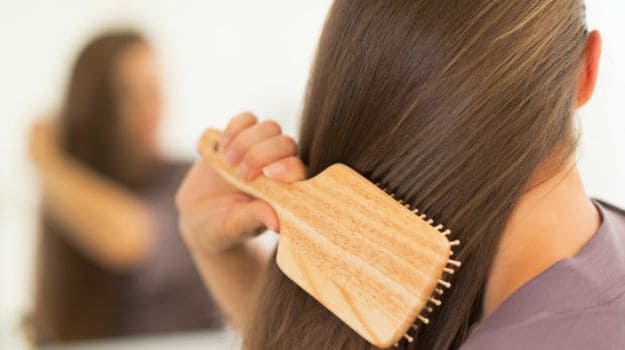 Almonds oil has essential fatty acids which go deep inside the hair and also by massaging scalp regularly with almond oil moisturize and promotes hair growth. Wanna know about the foods that prevent hair fall.
6. Almond oil for lustrous hair:
Almond oil for hair consists of vitamins and proteins which are responsible for making hair soft and glossy.There are certain vitamins for hair growth which can help you to give a long and lustrous hair.
Method to use Almond Oil for lustrous hair:
Take some henna powder put some water, and mix properly give rest for six to seven hours.
Now put one egg and three tablespoons of almond oil if you want can also add a few drops of aromatic oil of your choice.
Mix everything correctly lets it rest for another 10 minutes.
Apply this paste on hair.
Wash off thoroughly with water and then shampoo.
7. Almond oil for blood circulation of the scalp: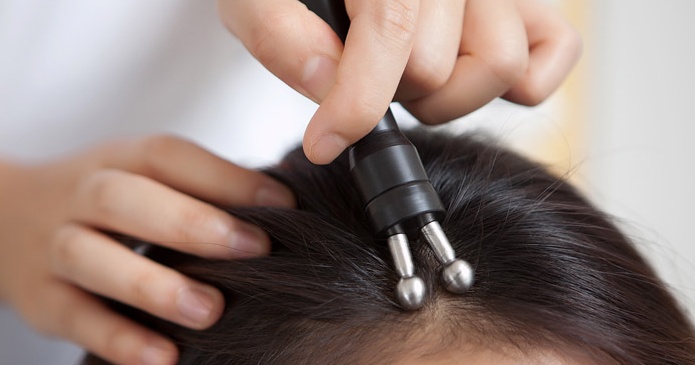 When you massage your scalp with almond oil for hair, it stimulates the scalp and increases blood flow which is great for hair growth. Moisturizing your scalp with almond oil will nourish your hair from roots to ends and will stop breakage of hair.
8. Almond oil for hair as conditioner:
Almond oil for hair is light in texture, and it gets absorbed faster in the scalp and also can be used as a natural live-in conditioner.
Method to use almond oil as conditioner:
Soak few almonds in warm water, after 2 hours grind almonds completely to make a paste
Then add One tablespoon of almond oil to it and mix properly
Apply on the entire length of hair
After one hour wash off thoroughly with water and clean hair with mild shampoo
9. Almond oil for hair to tame frizzy hair:
Almond oil contains Fatty acids and vitamin A, D, E, B1, B2, and B6. This helps to retain moisture of hair. Especially vitamin E conditions the hair and it becomes easy to maintain frizzy and curly hair.
10. Almond oil to protect hair:
Almond oils have a nutrient that gives total nourishment and protects hair from all hazards we face in our day to day life. It improves the structure of your hair and makes it healthy. There are some foods for healthy hair and nourish your hair completely.
Method to use almond oil to protect hair:
Combine one tablespoon of almond paste, one tablespoon of almond oil, a dash of coconut and one teaspoon of honey
Apply on hair wash after one hour
Almond oil for hair is a Blessing, but that's not the only thing. There are numerous benefits of almond oil and almond oil for skin.