Avocado is one of the healthiest fruit available. It is packed with nutrients, minerals, and vitamins. Avocado oil is also rich in omega-3 fatty acids. Ancient Egyptian and Mayan women used avocado oil for hair loss issues and to promote hair growth. The amalgamation of moisturizing plants sterols, antioxidants vitamin E, and monosaturated fatty acids in the oil give different kinds of nutrients which are recommended for hair growth and hair treatment.
You will find avocado oil as the main ingredient in many cosmetic products. It provides the nutrients to make hair stiff and shiny. It works wonders to dry hair by making them soft and glossy.
Herein are 10 Benefits of Avocado Oil for Hair:
1. Avocado oil for hair rejuvenation with vitamins:
Avocado oil is packed with vitamin B and vitamin E, while vitamin E is used to rejuvenate the scalp, vitamin B is helpful to strengthen the hair strands. Lack of vitamins can be detrimental to hair growth, and it brings a lot of hair problems. With the use of avocado oil, you can prevent these hair issues.
2. Avocado oil for hair growth:
Avocado oil is famous to promote hair growth. The oil is packed with essential nutrients like amino acids, proteins, and vitamins. These nutrients enhance the blood circulation of the scalp by stimulating hair follicles. Because of its properties to lock in moisture, avocado oil maintains the hair structure and prevents hair loss caused by excessive use of cosmetic products. Wanna know more about how Almond oil help to reduce hair loss? Here are some benefits of almond oil for hair.
3. Avocado oil for hair as conditioner:
Avocado oil has high-fat content which makes hair long, soft, and elastic and prevents hair loss and hair breakage. You may make avocado conditioner by yourself. Mix mashed avocado with avocado oil and make a thick paste. Apply on hair; wash off with warm water after 20 minutes. You can also use Olive oil for hair conditioning.
Some health benefits of avocado oil for hair growth you can watch in this video.
4. Avocado oil for frizzy hair:
Avocado oil has nutrients which aid a miraculous cure for frizzy hair. Just with a few drops of oil applied on dry and frizzy hair, you will be able to manage your hair and style them.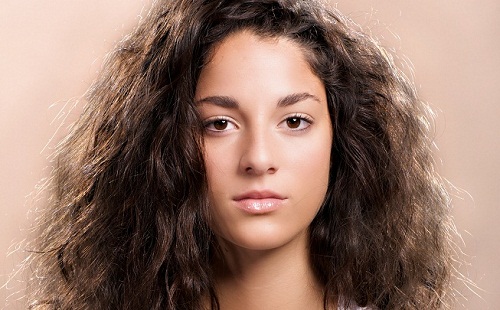 Nourishing avocado hair mask for curly hair:
Mix one ripe avocado mashed with one beaten egg, a dash of coconut oil for hair and one teaspoon of honey. Mix everything properly. Apply this hair mask on entire hair length, do not apply on scalp. Wash off after 40 minutes.
5. Avocado Oil for Dandruff:
One of the great benefits of avocado oil is to eliminate dandruff from your scalp. Avocado seeds are also used to treat dandruff. Avocado oil for hair cures psoriasis and eczema as well. Make sure to apply and massage this good oil in your scalp and hair regularly.
6. Avocado oil for hair loss:
Hair loss could be due to various reasons like the exposure of hair to extreme weather like very hot climate or very cold temperature. Many times it could be due to stress or vitamin deficiency. Excessive usage of chemically strong shampoo or treating your hair with chemicals can also cause hair loss. Avocado oil for hair is full of essential vitamins which prevent hair loss. Massage your hair with avocado oil regularly for full and lustrous hair.
7. Avocado oil for healthy scalp:
The dry and flaky scalp is a very common problem, especially in winters. It then translates into other hair related problems like itching and sometimes inflammation of the scalp. Avocado oil for hair moisturizes and replenishes the scalp. The oil penetrates deep inside the epidermis to give nourishment to the scalp. Massage avocado pulps in your scalp. Wash off after one hour, in one-hour amino acid and protein content of avocado will do its work of healing, enhancing the condition of your scalp.
8. Avocado oil for hair as a moisturizer:
Avocado oil for hair is used to retain moisture and protect the hair from breaking. Combine one teaspoon of avocado oil, one teaspoon of olive oil, and mix with one beaten egg. Apply on entire hair from scalp to end of the hair. Wash it off after thirty minutes. You may not know that there are many benefits of  essential oils for hair.
9. Avocado oil for gorgeous hair:
Avocado oil has 25 nutrients and vitamins A, B, C, D, and K and also has a lot of other compounds which help in keeping care of the overall health of hair.
10. Avocado oil for hair protection:
Applying avocado oil for hair has numerous advantages like it gives complete nourishment to your hair. After washing your hair with shampoo and when they dry then apply avocado oil alone or in combination with your regular oil to enhance the structure and appearance of hair. It also helps in faster and healthier growth of new hair.